22 January 2019
Hello 365 residents!!
We would like to introduce you to the Pop artist, Lobo!
The brazilian artist colored our fridges in one of our communal buildings with beautiful illustrations!!
Let's play a game:
Thank you for your participation! We congratulate our 365-tenant for giving the right answers!
Look out for our next game.
Name all 6 artists in the right order (from left to right) and send this list to nathalie365rooms@gmail.com.
The first 365 resident who sends us the correct answer will receive a small suprise!!
1.Elton John - 2.Oprah Winfrey - 3.Louis Armstrong - 4.Emma Watson - 5.James Dean - 6.Audrey Hepburn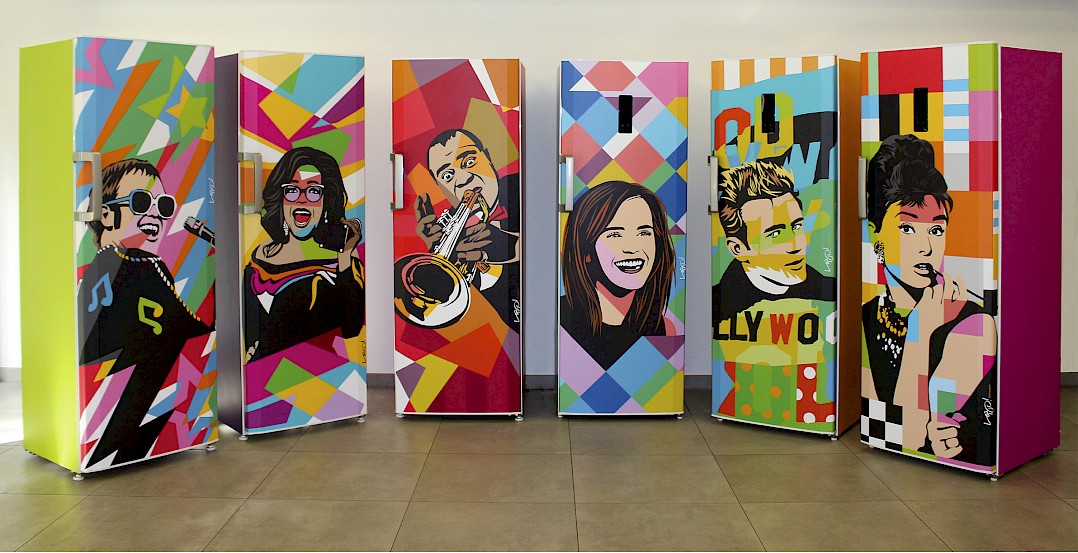 Lobo is a contemporary Brazilian artist who has been painting pop art for more than 15 years.
Lobo began his career in 1991, working in advertising agencies and developing skills in packaging design and merchandising.
In 2003 after spending 12 years working with advertising, he discovered his talent for painting and did not stop anymore!
A few years later his style began to mature and he decided to leave the roots inspired by Keith Haring, Andy Warhol to develop a language of his own. "That's when I found answers to why I painted," Lobo says.
The strongest characteristic in the technique of this self- taught artist is to be a perfectionist. With manual work and a lot of careful, he uses up to 10 layers of colored paint on your canvas.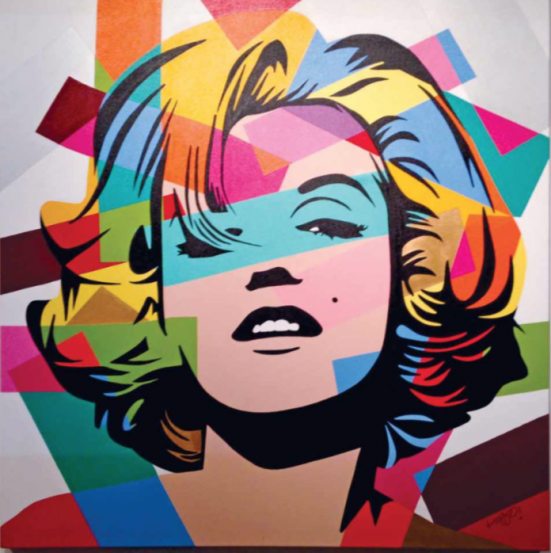 Lobo has been transforming Pop Art into a language of its own and in constant evolution. With many references and inuenced by new cultures, his works are contemporary and the level of elaboration and richness of details impress.
The work of artist Lobo is connected with his experience in observing everything that surrounds him, from elements of the Brazilian culture, folklore, nature and aspects of the culture of the countries that he visits.
In the works of the artist Lobo, it is possible to clearly perceive the hybrid force, with very own characteristics that reveal its experience, and translate its Brazilianness into the joy and use of colors that is closely linked to the movement and development of Pop Art.
The works produced by Lobo mix elements that are in different angles and dimensions and thus break the various characteristics of traditional art.
His art has the multiplicity that expresses a mode of knowledge of contemporary man, where the world is seen and represented as a "network of connections", a web of relations of an inextricable complexity.
The artist has been participating in individual and collective exhibitions in São Paulo and Rio de Janeiro and also in street exhibitions such as Monica Parade, CowParade and Elephant Parade.
In the Festival Brazil Amsterdam had an individual exhibition, in order to take Brazilian art to Amsterdam.
Also admired in other continents, Lobo has his art spread in several countries beyond Brazil, such as the United States, Germany, Holland, France, Spain, Mexico, Australia, Italy, Switzerland and other countries.
lobopopart.com.br/en